Remember the scene leading up to Katniss Everdeen volunteering as tribute to take her sister's place in The Hunger Games?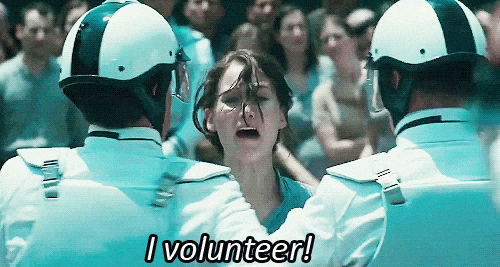 This is what it felt like, this past few weeks, when on the 26th May, the "vaccine that [no one in Sarawak] supposedly wants" was released to the public as a first-come, first-served voluntary basis for five states in Malaysia (Sarawak included). I alluded to the problems and people's frustrations with vaccination rollout plans in my previous post, where local politics built on decades of nepotism, have made a mockery out of a global public health matter. 
The truth is: people are suffering from covid fatigue, and they are scared. I can accept that there aren't enough vaccines because of global politics. What I can't accept is, 3 months into the vaccine rollout, people in their early 70s, 60s and those with underlying health issues aren't being given appointments. But because of nepotism, privileged healthy individuals are being rushed to the front of the line as vaccine delays are blamed on those who don't register, or who are no shows. 
And on top of all of this, we have a government that initially rejected AstraZeneca, not because of scientific reasons, but because of — wait for it — politics. Of the perception that people only want another brand of vaccine made by an opposing superpower (hint: not Pfizer either). At the end of the day, it feels like it still goes back to race politics. Even though at this point in time, having access to vaccines, no matter which 'brand' should be most important. But for some reason, this has been made exceptionally inaccessible.  
In a nutshell, like most other countries, Malaysia did not make vaccinations for Covid-19 mandatory, but instead, encouraged voluntary registration. Majority of the vaccines have come from two sources: Pfizer and Sinovac. By the time AstraZeneca became available, the fear-mongering of the rare blood clot has reached fever pitch, despite scientists (and local medical doctors) trying to correct the misinformation. But fake news was rife, and unfortunately, people believe forwarded and unverified WhatsApp messages more than experts — such is the extent of the anti-intellectualism in this country. A decision was then made — in April — to take AZ off the list of available vaccines in the national immunisation programme, but since about 1.2 million doses were due to arrive, the federal government decided to then make AZ available as an opt-in voluntary option, where people can sign up separately through a national vaccine and Covid-19 website. 
In the background of all of this, is a debilitating fourth (or was it third) wave of community infections spreading across much of Sarawak and Malaysia. My hometown essentially went from zero or one or two community infections to hundreds. To add insult to injury, information about where and how the community was getting infected ceased (although the public was constantly being assured that everything is under control), and a list of premises visited by those who tested positive were made available daily. However, as the economic sector remains open, people return to work, became complacent. This is always how the zombie apocalypse happens. All jokes aside, as an academic with a full-time university position, the reality of being asked to go back to face-to-face teaching becomes more real with each passing day. So when the federal government offered Sarawak some of the first round of AZ vaccines for the opt-in voluntary programme in April, and it was blatantly rejected by politicians, many, including myself, retorted in anger. 
I wasn't just angry; I was furious. To add to this, we had a politician smugly telling everyone through his social media channels that if we wanted AZ, we can walk into any vaccination centres in KL or Selangor. Bear in mind, KL and Selangor are both a 2-hour plane ride away across the South China Sea, and our state borders were supposedly closed for non-essential travel. The smugness of that politician reminded me of Donald Trump in that moment, not only showing contempt for the people, but blatant disregard over public health concerns. It infuriated me because neither of my parents have, at that point, received any appointments for their vaccinations. And suddenly, in a blink of an eye, we were being told we have no control or choice over a vaccine that was made voluntarily available — a country that has thus far, built it's health care system based on Britain's NHS and a private care option. When, even under the national immunisation programme, we would have been made to sign an indemnity form, that having registered for the vaccine, was our own choice. Thus, making us responsible for our own supposed choices in taking a vaccine — an option which is now an illusion given a third vaccine, available through a volunteer process, was so blatantly rejected. 
It wasn't just irony, it was megalomania. And it wasn't a medical decision, it was a political one. Yet those of us who responded with anger and frustration, who questioned the decision, were, instead, being subjected to daily barrage of insults on our 'non-medical education on the [supposed] dangers of AZ', our nonsensical fantasies about 'freedom', and our Western-polluted minds on social activism. Suddenly, instead of living in Malaysia, it appears as if I'm living in a country like China, whereby I'm not supposed to have an independent thought that is critical of the ruling system. 
Fast forward a month to May, and community infections are still raging, and AZ is suddenly back on the table. Even for Sarawak. Cue the pandemonium of May 25th — a public holiday — as slots for those aged between 18-60 were opened at noon for registration at the national Covid-19 website. Volunteering for a vaccine that "no one wants", as politicians claimed, became a case of survival of the fittest.
And it was fittest in the speed of internet connections, and how many devices one can get connected to the website to enter details and then repeatedly verifying (to Google) one isn't a robot. The last time I did something like this was back in London when I was trying to get tickets to see Gillian Anderson in her award-winning performance in "A Streetcar Named Desire". 
Public health and theatre tickets: a comparison that I never thought I'd ever make in my lifetime. 
For a vaccine that supposedly no one wants, the website crashed even before it was properly opened. And within 50 minutes, close to a million slots were supposedly all filled. I must have aggressively clicked all available dates across the months of June and July about 500 times and were told each time the chosen date was not available. And I wasn't the only one who had the same issue. All the while I hoped politicians were getting slapped in their faces over this, for making that authoritative decision that no one in Sarawak wanted this particular vaccine. 
When I was finally given a slot 96 hours after fighting for it, I thought at least part of the stress was alleviated. But then come the horror stories: of venues being changed to a different city about 700 km (roughly 400 miles) away, of appointments being taken away half an hour before the scheduled vaccination time. These horror stories were happening to people around me rather than urban myths passed around through Malaysia's favourite social media channel, WhatsApp.
Saying that, kudos to the volunteers and all the medical and organisational team at the venue when it came time for my vaccination — everything ran like clockwork, and I was in and out, with observation period post-vaccination, within the hour of my appointment.
The sobering thought however, a year and a half into the pandemic, and 15 months into various stages of lockdowns, I never for once thought vaccines — a matter of public health — would become something so inaccessible for Malaysians in general. Global geopolitics was a given, but to see it being played locally, in this folksy, populist manner was sickening. As a rational human being, I know in times of crisis, it is important to support the system (i.e. SOPs like physical distancing, wearing a mask in public, constantly sanitising, staying home as much as possible, and the like), but when the system turns around and constantly blames the public for its own failures, one cannot avoid the thought that the system must change. 
As academics, we're constantly reminded to look outside the ivory tower of academia, lest we stand accused of forgetting what 'real life' is like. In the midst of a global pandemic where matters of public health concerns everyone, politicians and mere mortals alike, perhaps it bears well for civil servants, politicians and their entourage to also look outside the iron curtain of government service and start being of service to the people who voted them into office.